Are your projects actually feasible?
We deliver asset-centric feasibility studies to help you make your renewable energy development plans a success. Our team will provide you with the required support to analyse the feasibility of any of your projects.
FEASIBILITY STUDIES FOR SOLAR
Our Solar Feasibility Studies help developers and investors determine whether a location is technically and financially appropriate for installing a solar project. As the requirements vary from country to country, you may need to assess different legal and regulatory frameworks to develop solar farms in certain countries. At Quintas Advisory, we can provide you with the necessary support to analyse the feasibility of your specific project. Our team of consultants have a solid track record in assessing project viability and will help you make your plans a success.
FEASIBILITY STUDY REPORT
An integrated approach
Our feasibility studies cover a broad range of areas, all essential to secure your project's technical, regulatory, and financial viability. Our team of consultants will give you the necessary support to help you face any potential risks and will perform the required modifications on time before you commit to investing.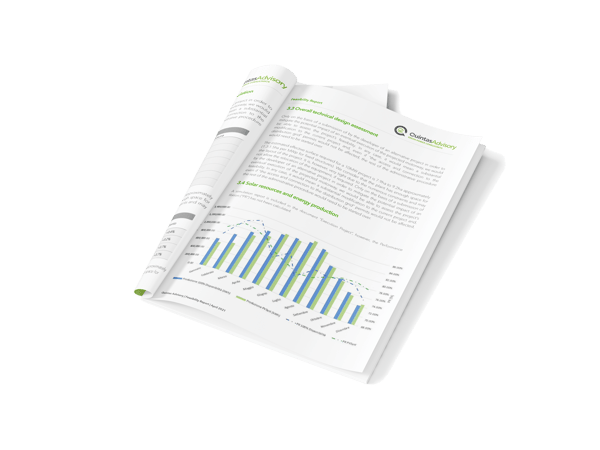 MAIN FEATURES
Our Feasibility Studies include some of the critical elements to consider and analyse when taking the initial steps towards an investment. We will provide a detailed analysis about the location of your plant installation and a review of the site constraints (near and onsite shadings, topography, major environmental impact, etc.), land assessment, technical design and grid connection.
Location Study
Our team will assess and visit (if required) the proposed location to confirm its adequacy for development purposes.
Design Assessment
Detailed PVsyst analysis on the available land and the technical characteristics of the project, based on pre-agreed assumptions.
Components Analysis
An in-depth analysis of the site components to be used, as well as our independent guidance during the selection of suppliers.
Financial Model
We also guide our clients during the production of a financial model that will include all the main assumptions reached in the feasibility study.
GET IN TOUCH
HOW CAN WE HELP YOU?
Get in touch with our team of experts to solve any issues or questions you may have regarding our Feasibility Study service. We would love to hear from you!