Business Intelligence Consultancy for Renewables
We automate data cleansing, processing, and integration, providing Business Intelligence Consultancy to help you meet your goals.
BUSINESS INTELLIGENCE AND DATA SOLUTIONS FOR YOUR MANAGEMENT NEEDS
Pulling practical insights from data is a time-consuming, never-ending chore. At Quintas Analytics, we leverage the right technology to deal with data complexity and extract actionable analysis, so you can make the performance of your renewable investments your top priority.
Managing renewable portfolios is a complex and challenging task, with a high volume of data. Business Intelligence Consultancy gathers actionable data insights and presents solutions. This support leads to better informed management decisions and increased investments performance.
Extracting practical data insights is overly time-consuming when it requires manual data collection, cleansing, standardisation, and analysis. Automated, integrated data evaluation is the key to supporting accurate management decisions, which is why our personalised BI services can present easily digestible information and data solutions.
Depending on our client's needs, we extract complex portfolio data from various sources and consolidate it via our powerful Ariadne portal. By doing this we can efficiently automate best-in-class analysis from asset data. The insights provided help solve data issues and support more effective operations, allowing you to focus on improving investments performance.
ACTIONABLE ANALYSIS, DRIVING SOLUTIONS
Quick integration
Fast, seamless data integration and compatibility from multiple data sources, including energy market prices, production, irradiation and CRM.
Quantify and mitigate issues
Valuable insights and solutions come from calculating impact on a technical (MWh) and financial scale (revenues).
Bespoke business intelligence
Our service isn't just about automated BI. It's about listening to the client's requirements and consulting with them to build valuable data solutions and dashboards.
Granularity
We implement automated data cleansing and standardisation to transform granular data into actionable insights.
DISCOVER OUR DATA-BASED ANALYTICAL SOLUTIONS
Renewable energy projects need to be efficient, demanding a high level of control and intense decision-making processes so investments become profitable and secure. At Quintas Analytics, we make data complexity manageable, providing actionable data-based outcomes, so the right decisions can be made. See below for some real-world examples of our BI solutions: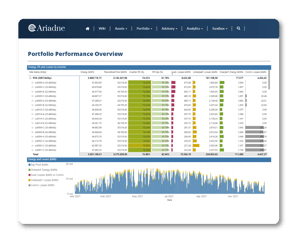 TOUCH
Portfolio Performance Overview
Portfolio Performance Overview
Get a daily picture of your renewable energy portfolio's KPIs, aggregated at plant, fund, national and portfolio level. The actionable insights provided keep your operation and management teams focused on the main factors affecting production variance.
TOUCH
Plant Performance Overview
Plant Performance Overview
We provide actionable insights every day for all your KPIs, right down to the aggregated performance of your inverters and meters. The information available helps O&M professionals match production with expectations.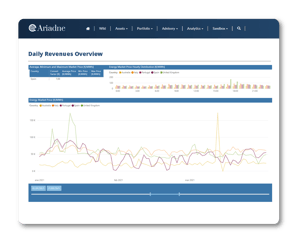 TOUCH
Daily Revenues Overview
Stay informed every hour of every day, with a visualisation of energy market prices and revenues provision in every country of interest. This picture provides practical observations for your revenue management team to act upon.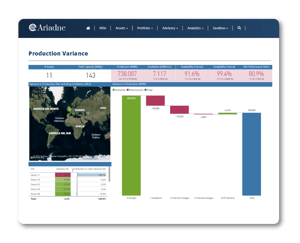 TOUCH
Monthly Production Variance
Monthly Production Variance
Give your technical and management team the tools for practical improvements with a greater understanding of the drivers of portfolio production variance. Our relevant, efficient and data-driven technical reporting helps achieve optimal results for monthly closing.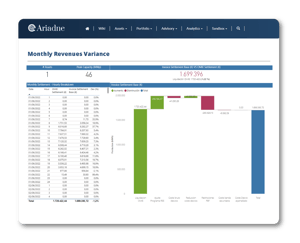 TOUCH
Monthly Revenues Variance
Monthly Revenues Variance
Monitor revenues variance between market prices and PPA or FiT prices, to provide a far greater understanding of the main deviations. These actionable insights will prove invaluable for your finance and management team.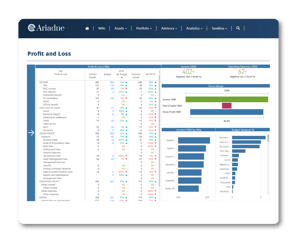 TOUCH
Monthly Financial Closing
Monthly Financial Closing
Our Business Intelligence services produce high quality financial reporting with the emphasis on hard data that is both relevant and impactful. Give your financial and management team what they need to monitor and optimise the monthly closing process.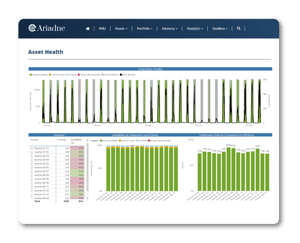 TOUCH
Asset Health at String Level
Asset Health at String Level
Your technical team can locate and isolate underperforming or disconnected strings rapidly and prevent losses with this actionable data solution. This regular deep analysis also provides a timeline detailing asset health and reasons for underperformance.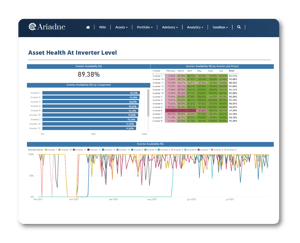 TOUCH
Asset Health at Inverter Level
Asset Health at Inverter Level
Quickly and efficiently identify disconnected or underperforming inverters to avoid significant energy losses. Recurrent data-based deep analysis provides the technical team with actionable insights so they can focus on fixing issues as soon as possible.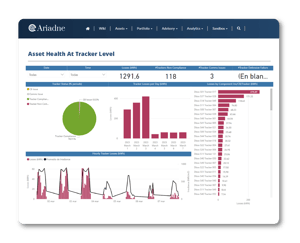 TOUCH
Asset Health at Tracker Level
Asset Health at Tracker Level
Spot systemic issues and fix recurrent problems with our BI procedure for identifying uncomplying trackers, aggregating information by date, time period and KWh losses. This detailed data solution helps your technical team focus on fixing issues as soon as possible.
LEARN MORE ABOUT OUR BUSINESS INTELLIGENCE SERVICES
CONTACT US
We work closely with our clients, providing full support for their complex digitisation needs — at a competitive price and with short integration times.