Data History Review
Extracting valuable insights from your assets' historical data will empower you to make better-informed management decisions.
THE REAL VALUE OF DATA
UNDERSTAND YOUR PORTFOLIO'S HISTORICAL TRENDS
Our experts collect historical data from your assets at minimum granularity to provide actionable insights. We will highlight any historical unavailability and underperformance issues that affect your main components and quantify the impact in terms of MWh and revenue.
METHODOLOGY
HERE IS HOW THE SERVICE WORKS
1
We digitise the single line diagram of the asset.
2
We evaluate historical data quality and connect digitised components and variables with our monitoring system.
3
We set up historical expected values based on investor expectations.
4
We highlight any historical unavailability and underperformance issues.
DELIVERABLE
DATA HISTORY REVIEW
Our Data History Review offers interactive reports to compare historical asset data with expected technical performance. We perform the comparison at a minimum level of granularity to identify how the performance of the assets impacts KPI expectations.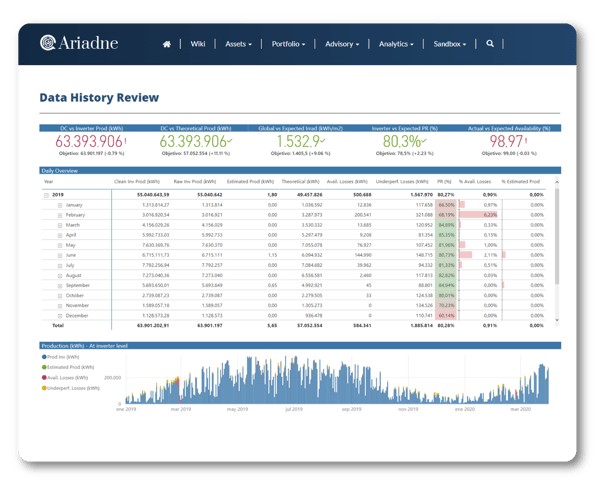 ACCESS YOUR DREAM DATA MANAGEMENT SOLUTION
Take advantage of our free quotation service to provide you with the best options to help optimise your solar investments. Please fill in the contact form to share some basic details about your solar portfolio to ensure we can provide you with the most comprehensive quote to meet your needs.